All | SAB | SATB | SATB divisi | SSA | SSAA | SSATB
Individual Folios
SSAA
Displaying 1-2 of 2 items.
---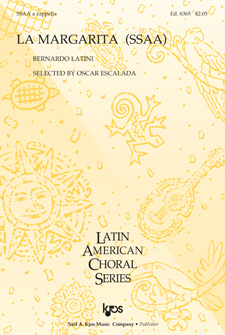 Bernardo Latini : La Margarita
Bernardo Latini is one of Argentina's brightest young composers of choral music. "La Margarita" is a new piece for women's choir or children's choir, which tells the story of a poor girl who lives a hard life on the street, but who finds joy in the game of hopscotch. Young singers will enjoy the optional movements that depict the jumps made by the players on a hopscotch square.
Composer: Bernardo Latini

---
Stephen Chatman : Listen, I love you
The opening lines, "Listen, I love you. Do not turn your face / Nor touch me.", reflect the somber feelings encompassing Sara Teasdale's poem. Paired voices initially express contrapuntal melodic lines enhanced by underlying harmony and slow syncopation in the piano accompaniment. The middle and final sections, imbued with sad words such as "let me ease my heart," "with broken wing" and "Forget that I am speaking," evolve beautifully within contrasting tonal regions, supported by undulating keyboard arpeggios. One of a set of six of Teasdale's love songs. Duration: 2:00
Composer: Stephen Chatman


New Sheet Music

Vocal Harmony Arrangements - Home
Christian | Gospel | Standards | Musicals | Specialty | World | Barbershop | Contemporary | Vocal Jazz | Choral | Christmas
Mixed Voices | Female | Male | 8 Parts | 6 Parts | 5 Parts | 3 Parts | 2 Parts | Medleys | Solo | Folio Series | New Releases
---
---
---
---

List of Choruses by State | List of Choruses by City
---
Specialty Arrangements
---