All | 2-Part | 3-Part | SAB | SATB | SATB divisi | ShowTrax CD | SSA | SSAA | SSAA divisi | TTBB | TTBB divisi | Unison
Series Collections
---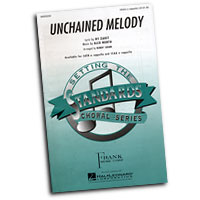 Kirby Shaw: Standards for Women
Review: These songs are so wonderful they have become part of the great American songbook. The timeless ballad "Unchained Melody" is simply breathtaking! Perfect for concert groups or pop ensembles, this is an arrangement will become a staple in your repertoire. "My Funny Valentine" is on just about everyone's top ten list of all-time classic ballads! Lush harmonies, varied textures, and a timeless melody and lyric...this is it! "Always" has been recorded by hundreds of major artists over the years, the classic simplicity of this Irving Berlin song makes it one of our most treasured standards. This expressive a cappella setting for women's voices will create a magical moment in performance! The classic Irving Berlin song "What'll I Do" was sung by Judy Garland and is a popular standard that has been performed by many great singers. This stellar a cappella arrangement is a real treat and is a perfect song for female voices.
Songlist: What'll I Do?, Always, Unchained Melody, My Funny Valentine

---
Individual Folios
Displaying 1-50 of 71 items.

New Sheet Music

Vocal Harmony Arrangements - Home
Christian | Gospel | Standards | Musicals | Specialty | World | Barbershop | Contemporary | Vocal Jazz | Choral | Christmas
Mixed Voices | Female | Male | 8 Parts | 6 Parts | 5 Parts | 3 Parts | 2 Parts | Medleys | Solo | Folio Series | New Releases
---