---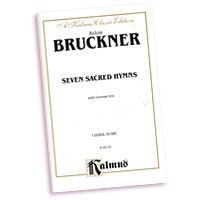 Anton Bruckner : Seven Sacred Hymns
Review: Anton Bruckner (4 September 1824 - 11 October 1896) was an Austrian composer known primarily for his symphonies, masses, and motets. His symphonies are often considered emblematic of the final stage of Austro-German Romanticism because of their rich harmonic language, complex polyphony, and considerable length. Bruckner's compositions helped to define contemporary musical radicalism, owing to their dissonances, unprepared modulations, and roving harmonies. Here are seven hymns for unaccompanied SATB choir. German text.
Songlist: Ave Maria, Ave Maria, Locus Iste, Os Justi, Virga Jesse, Vexilla Regis, Afferentur Regi

---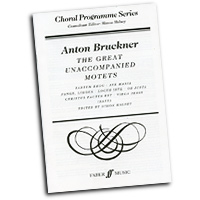 Anton Bruckner : The Great Unaccompanied Motets
Review: The a cappella classics Christus Factus est and Locus iste are central to this collection featuring the best of Bruckner's outstanding output for unaccompanied choir. These pieces are among the most enduring choral masterworks of the 19th century. Simon Halsey's performing edition includes an informative introduction, keyboard reductions for rehearsal and English translations of the Latin texts for reference.
Songlist: Tantum Ergo, Pange, Lingua, Locus Iste, Os Justi, Christus Factus Est, Virga Jesse

| Song Name | Arranger | Composer | Artist | Item Title | Format | | Trax |
| --- | --- | --- | --- | --- | --- | --- | --- |
| Afferentur Regi | | Anton Bruckner | Anton Bruckner | Seven Sacred Hymns | Songbook | MORE DETAILS | |
| Ave Maria | | Anton Bruckner | Pacific Mozart Ensemble | Classics Live | 1 CD | MORE DETAILS | |
| Ave Maria | | Anton Bruckner | Voices of Ascension | Mysteries Beyond - In Praise of Mary | 1 CD | MORE DETAILS | |
| Ave Maria | | Anton Bruckner | Choral Arts of Chattanooga | A Christmas Portrait | 1 CD | MORE DETAILS | |
| Ave Maria | | Anton Bruckner | Dresden Boys' Choir | Singt Die Schonsten Weihnachtslieder (Singing the Christmas Carols) | 1 CD | MORE DETAILS | |
| Ave Maria | | Anton Bruckner | Oxford New College Choir | Nativitas - A Celebration of Peace | 1 CD | MORE DETAILS | |
| Ave Maria | | Anton Bruckner | John Rutter (Editor) | European Sacred Music | Songbook | MORE DETAILS | |
| Ave Maria | | Anton Bruckner | Gaudeamus | Sacred Feast | SACD | MORE DETAILS | |
| Ave Maria | | Anton Bruckner | Anton Bruckner | Seven Sacred Hymns | Songbook | MORE DETAILS | |
| Ave Maria | | Anton Bruckner | Anton Bruckner | Seven Sacred Hymns | Songbook | MORE DETAILS | |
| Ave Maria | | Anton Bruckner | Audi Jugendchor Akademie | A Cappella | 1 CD | MORE DETAILS | |
| Ave Maria | | Anton Bruckner | | Ave Maria | Sheet Music (SATB divisi) | MORE DETAILS | |
| Ave Maria, WAB 6 (1861) | | Anton Bruckner | Dresden Boys' Choir | Sacred Music | 1 CD | MORE DETAILS | |
| Christus Factus Est | | Anton Bruckner | Cambridge Singers | Images Of Christ | 1 CD | MORE DETAILS | |
| Christus factus est | | Anton Bruckner | John Rutter (Editor) | European Sacred Music | Songbook | MORE DETAILS | |
| Christus Factus Est | | Anton Bruckner | Anton Bruckner | The Great Unaccompanied Motets | Songbook | MORE DETAILS | |
| Christus Factus Est | | Anton Bruckner | Audi Jugendchor Akademie | A Cappella | 1 CD | MORE DETAILS | |
| Das Edle Herz | | Anton Bruckner | Various Composers | German Romantic Partsongs | Songbook | MORE DETAILS | |
| Du Bist Wie Eine Blume | | Anton Bruckner | Various Composers | German Romantic Partsongs | Songbook | MORE DETAILS | |
| Gradual: Os Justi | | Anton Bruckner | Voices of Ascension | Mysteries Beyond - In Praise of Mary | 1 CD | MORE DETAILS | |
| Locus Iste | | Anton Bruckner | Knabenchor Capella Vocalis | Cantate Domino | 1 CD | MORE DETAILS | |
| Locus iste | | Anton Bruckner | St John's College Choir, Cambridge | Album of 19 Favourites | 1 CD | MORE DETAILS | |
| Locus iste | | Anton Bruckner | St John's College Choir, Cambridge | Ave Verum - Popular Choral Classics | DVD | MORE DETAILS | |
| Locus iste | | Anton Bruckner | St John's College Choir, Cambridge | Ave Verum - Popular Choral Music | 1 CD | MORE DETAILS | |
| Locus iste | | Anton Bruckner | John Rutter (Editor) | European Sacred Music | Songbook | MORE DETAILS | |
| Locus iste | | Anton Bruckner | American Boychoir | Litton Live! The Farewell Concert | 1 CD | MORE DETAILS | |
| Locus Iste | | Anton Bruckner | Anton Bruckner | Seven Sacred Hymns | Songbook | MORE DETAILS | |
| Locus Iste | | Anton Bruckner | Iowa State Singers | Choral Spectrum 1 | 1 CD | MORE DETAILS | |
| Locus iste | | Anton Bruckner | Brian Kay | The Greatest Choral Classics | Songbook | MORE DETAILS | |
| Locus Iste | | Anton Bruckner | Anton Bruckner | The Great Unaccompanied Motets | Songbook | MORE DETAILS | |
| Locus iste | | Anton Bruckner | Various Composers | Five Centuries of Choral Music Vol 2 | Songbook | MORE DETAILS | |
| Locus Iste | | Anton Bruckner | Audi Jugendchor Akademie | A Cappella | 1 CD | MORE DETAILS | |
| Locus Iste | Russell Robinson | Anton Bruckner | | Locus Iste | Sheet Music (3-Part) | MORE DETAILS | Yes |
| Locus Iste | Russell Robinson | Anton Bruckner | | Locus Iste | Sheet Music (TTB) | MORE DETAILS | Yes |
| Locus Iste | | Anton Bruckner | | Locus Iste | Sheet Music (SATB) | MORE DETAILS | |
| Locus iste in C major | | Anton Bruckner | Dresden Boys' Choir | Romantic Choral Music | 1 CD | MORE DETAILS | |
| Locus iste, WAB 23 (1869) | | Anton Bruckner | Dresden Boys' Choir | Sacred Music | 1 CD | MORE DETAILS | |
| Os justi | | Anton Bruckner | John Rutter (Editor) | European Sacred Music | Songbook | MORE DETAILS | |
| Os Justi | | Anton Bruckner | Anton Bruckner | Seven Sacred Hymns | Songbook | MORE DETAILS | |
| Os Justi | | Anton Bruckner | Anton Bruckner | The Great Unaccompanied Motets | Songbook | MORE DETAILS | |
| Os Justi | | Anton Bruckner | Voces8 | A Choral Tapestry | 1 CD | MORE DETAILS | |
| Os Justi | | Anton Bruckner | Audi Jugendchor Akademie | A Cappella | 1 CD | MORE DETAILS | |
| Os justi meditabiture sapientiam | | Anton Bruckner | University of Utah Singers | The Cloths of Heaven | 1 CD | MORE DETAILS | |
| Pange lingua / Of the glorious Body telling | | Anton Bruckner | Lionel Dakers / John Scott (Edited by) | Ash Wednesday to Easter for Choirs | Songbook | MORE DETAILS | |
| Pange, Lingua | | Anton Bruckner | Anton Bruckner | The Great Unaccompanied Motets | Songbook | MORE DETAILS | |
| Tantum Ergo | | Anton Bruckner | Anton Bruckner | The Great Unaccompanied Motets | Songbook | MORE DETAILS | |
| Trosterin Musik | | Anton Bruckner | Chicago Children's Choir | Live From Vienna | 1 CD | MORE DETAILS | |
| Vexilla Regis | | Anton Bruckner | Anton Bruckner | Seven Sacred Hymns | Songbook | MORE DETAILS | |
| Vexilla Regis | | Anton Bruckner | Audi Jugendchor Akademie | A Cappella | 1 CD | MORE DETAILS | |
| Virga Jesse | | Anton Bruckner | Anton Bruckner | Seven Sacred Hymns | Songbook | MORE DETAILS | |