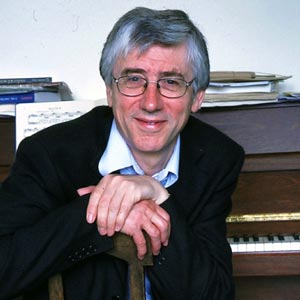 Stephen Darlington is one of England's leading choral conductors. His links with Christ Church began in the early 1970s, as Organ Scholar under Simon Preston. After four years as Assistant Organist at Canterbury Cathedral, he was appointed Master of the Music at St. Albans Abbey, and a year later, became Artistic Director of the world-famous International Organ Festival in succession to Peter Hurford. In 1985 he returned to Christ Church as Organist and Tutor in Music. Since then he has divided his time between establishing the college as an acknowledged centre of academic musical excellence, and maintaining the highest choral traditions of the Church of England in Christ Church Cathedral. His outstanding strength is in his performances of choral music of the 16th century, and of modern sacred music. An extensive discography comprising over 50 CD's, includes several award-winning recordings such as: Ralph Vaughan Williams's An Oxford Elegy (nominated for a Grammy Award), Giovanni Pierluigi da Palestrina's Missa Dum Complerentur and William Walton's Choral Works. Recent releases, Haydn's Stabat Mater and De Monte's Masses and Motets have received Gramophone magazine recommendations.
Groups directed - Christ Church Cathedral Choir
Discography
Displaying 1-1 of 1 items.
---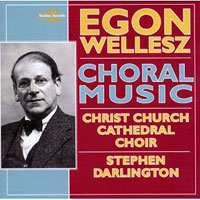 Christ Church Cathedral Choir : Egon Wellesz
Review: A Catholic convert from Judaism, Egon Wellesz composed a significant amount of sacred music including five masses, two of which--the first and the last--feature on this disc. Wellesz's operas of the 1920s contain a significant amount of virtuoso choral writing, and this quality carries over into his church music, although on the whole they are written in a simpler, more traditionally tonal idiom.
Songlist: Mass in F Op. 51, I Sing of a Maiden, Offertorium in Ascensione Domini, Missa Brevis, To Sleep Op. 94


Choral Music - Home
All Choral Groups | Choral Christmas | Composers | Choral Directors | Choral arrangements
Mixed Voice Groups | Mixed Voice CDs | Mixed Childrens Choirs | Mixed Childrens CDs | Mixed Voice Christmas CDs
Male Choral Groups | Male Choral CDs | Boyschoirs | Boyschoirs CDs | Male Choral Christmas CDs
Womens Choral Groups | Womens Choral CDs | Girls Choirs | Girls Choirs CDs | Female Choral Christmas CDs
Early Music Groups | Early Music CDs | Early Music Christmas CDs
Spirituals | Church Choirs | Madrigals | Choral DVDs | Complete choral list

Choral Development - Home | Choral Conducting | Techniques & Methods | Warm-Ups & Exercises | Rehearsal
Choral Choreography | Instructional DVDs | Children's Choir Development | Pedagogy | Singers Resources | Director Resourses

Choral music by Country - America | England | Canada | Bulgaria | Hungary | Germany | Estonia
Latvia | Russia | Denmark | Netherlands | Sweden | Africa | Latin American
---
All Rights Reserved All Content, page design, CGI Copyright © United Singers International