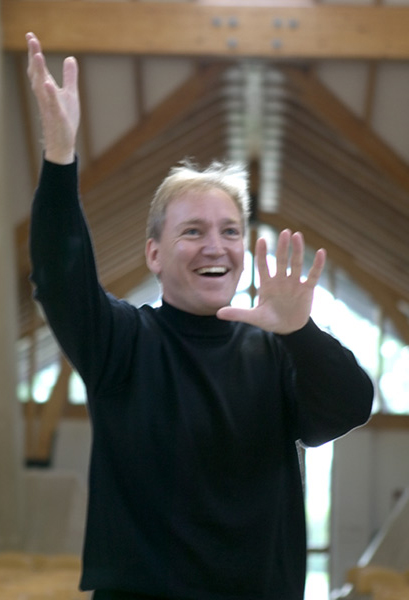 Nigel began his musical life as a chorister at Solihull Parish Church going on to study singing and piano at the Royal College of Music. He began his career as a soloist in opera and oratorio and as a member of specialist vocal ensembles such as The Tallis Scholars whilst maintaining a regular involvement in church music, firstly as a member of Westminster Abbey Choir then Westminster Cathedral. He joined the King's Singers when he was 27 and stayed with them for seven years.

After a short break of about one ski season in the Swiss Alps he set about founding his own group, Tenebrae, aiming to bring together what he loved best as a singer - namely the more passionate sounds of large Cathedral choirs and the precision of ensembles like The King's Singers - to create a new kind of choral group. Whilst embracing an eclectic repertoire he wanted to have some 'signature' works that would make Tenebrae different, adding a theatrical element that would involve singers moving around as if on stage. To that end he wrote 'The Dream of Herod', with a central role for baritone Colin Campbell, and commissioned Joby Talbot to write Path of Miracles, premiered in July 2005. Since its debut performance in 2001 Tenebrae has given concerts in Spain, Italy, Germany, France, Switzerland, UK, USA and Bermuda.
Discography
Displaying 1-10 of 10 items.

Choral Music - Home
All Choral Groups | Choral Christmas | Composers | Choral Directors | Choral arrangements
Mixed Voice Groups | Mixed Voice CDs | Mixed Childrens Choirs | Mixed Childrens CDs | Mixed Voice Christmas CDs
Male Choral Groups | Male Choral CDs | Boyschoirs | Boyschoirs CDs | Male Choral Christmas CDs
Womens Choral Groups | Womens Choral CDs | Girls Choirs | Girls Choirs CDs | Female Choral Christmas CDs
Early Music Groups | Early Music CDs | Early Music Christmas CDs
Spirituals | Church Choirs | Madrigals | Choral DVDs | Complete choral list

Choral Development - Home | Choral Conducting | Techniques & Methods | Warm-Ups & Exercises | Rehearsal
Choral Choreography | Instructional DVDs | Children's Choir Development | Pedagogy | Singers Resources | Director Resourses

Choral music by Country - America | England | Canada | Bulgaria | Hungary | Germany | Estonia
Latvia | Russia | Denmark | Netherlands | Sweden | Africa | Latin American
---
All Rights Reserved All Content, page design, CGI Copyright © United Singers International