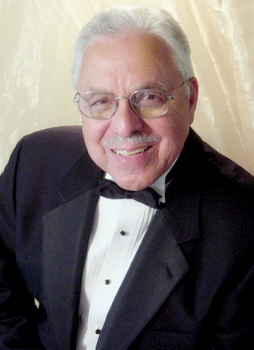 Albert McNeil is a native Californian -- born in Los Angeles. He earned Bachelors and Masters degrees at the University of California, Los Angeles, and did his doctoral studies at the University of Southern California, the Westminster Choir College of Princeton, and the University of Lausanne, Switzerland. He is presently Professor Emeritus of Music at the University of Southern California at Davis, where he was Director of choral activities for 21 years and headed the Music Education Program. He taught courses in ethnomusicology at the University of Southern California for 12 years. In 1991, he was honored by his alma mater, UCLA, as Alumnus of the Year in the area of Professional Excellence.

The McNeil Jubilee Singers ensemble is his creation, and he has dedicated himself to upholding a choral tradition of excellence with the presentation of the concert spiritual and the ever-increasing contributions of African American Composers of Concert Music, Opera, and theatre music. Under his direction, the group, now in its 36th year, has performed in 70 countries, including Eastern and Western Europe, the Middle East, and North and West Africa. During the summer of 1997 they completed their third tour of South America after numerous transcontinental tours of the U.S., Hawaii, and Canada.

In addition to his work at the University and conducting the Jubilee Singers, Professor McNeil has been an author and editor on a series of music education textbooks for Silver-Burdett-Ginn Publishing Company. He co-authored an educational packet for Bowman Publishing Company as well. His arrangements can be found in the Gentry and Lawson-Gould catalogues.

He was formerly director of the choir at the Congregational Church of Christian Fellowship. Presently, he is director of Music at the Founder's Church of Religious Science. He is in demand as an adjudicator and clinician and is often invited to conduct "honor choirs" throughout the United States and abroad. In January 1993, he was a Headliner at the Eleventh Annual Federation for Choral Music in Seoul, Korea, and in August, 1993, he presented the sessions on African-American Spirituals and Art Songs at the World Symposium on Choral Music in Vancouver B.C. He repeated similar sessions with his Jubilee Singers in Rotterdam in July, 1999. In July 1994, he was Guest Conductor at the DeKalb International Choral Festival held at Stone Mountain, Georgia. In 1995, he conducted the World Youth Choir in their 1995 tour of Canada and North America and in November of 1995 he was appointed vocal director/conductor of the 40th Annual Christmas Candlelight Procession at Disneyland. In August of 1996, he and his Jubilee Singers were among the five choirs appearing at the International Choral Festival in Taipei, Taiwan. He returned with his Jubilee Singers in July, 2000, as Lecturer and Conductor. He is Guest-Conductor on the Mormon Tabernacle Choir's "Anthology of Negro Spirituals" a CD released in January 1997. January, 1998, the Singers made their first tour of the Hawaiian Islands, with special performances with the Honolulu Symphony of the concert version of "Porgy and Bess" and a command performance in the recently renovated Hawaii Theatre. He followed this engagement with sessions as Guest Director and Lecturer with the Canadian Choral Conductors in Halifax, Nova Scotia. A year later, January, 1999, McNeil made his debut in Carnegie Hall with the Jubilee Singers and choruses from Los Angeles, Washington, D.C. and Puerto Rico. McNeil's guest conducting assignments during 1999-2000 included the Holland Festival (Michigan), the Heartland Chamber Ensemble (Ft. Wayne, Indiana), as headliner before the Choral Conductor's Guild-Convention 2000 (Pasadena) (Association of Church Musicians), and the Schola Cantorum (Palo Alto). Among his many awards: Alumnus of the Year for Professional Excellence presented by his alma mater, UCLA; the Michael Korn Award for distinguished conducting (Chorus America--Association of Professional Ensembles).

Professor McNeil is on the boards of the Los Angeles Master Chorale and the Neighborhood Music School. He is a life member of the American Choral Directors Association.