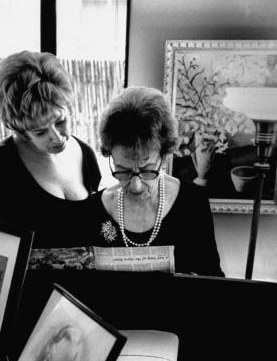 Born in New York, Estelle Liebling came from a family of talented musicians and made her debut at age eighteen as a vocalist, singing the title role of Lucia di Lammermoor at the Dresden Royal Opera House. Her stunning Metropolitan Opera debut came in 1902 when she sang the role of Marguerite in Les Huguenots, filling in for a sick performer. From 1903 to 1905 she performed as a soloist for John Philip Sousa's band on tour throughout America and Europe. She trained musicians at her studio in New York for fifty years, from opera singers such as Frieda Hempel and Beverly Sills to popular singers such as Kitty Carlisle. She also wrote books on voice training: The Estelle Liebling Vocal Course and The Estelle Liebling Coloratura Digest.

A member of a very musical Jewish family, Estelle Liebling, soprano and one of the most influential teachers of singing in America, was born in New York City on April 21, 1880, to Matilde (de Perkiewicz) and Max Liebling. Her father and her uncles, George, Emil, and Solly Liebling, all studied with Franz Liszt and had significant careers as pianists and composers. She had three brothers, Otto, Leonard, and James; Leonard and James were also professional musicians. At first, Liebling was trained as a pianist but, as she stated, "Fortunately, they found I had a voice." She studied in Berlin with Selma Nicklass-Kempner, serving also as her teacher's accompanist during lessons with other students. She also studied in Paris with Mathilde Marchesi.

Liebling made her operatic debut at the Dresden Royal Opera House at age eighteen, singing the title role in Donizetti's Lucia di Lammermoor. Other roles she sang in Dresden were the Queen of the Night in The Magic Flute and Rosina in The Barber of Seville. She also appeared at the Stuttgart Opera and at the Opera-Comique in Paris. Back in the United States, her unofficial debut at the Metropolitan Opera House in New York came in 1902, when at a few hours' notice she filled in for an ailing singer in the role of Marguerite in Meyerbeer's Les Huguenots. Liebling sang her role in German, the language in which she had learned it for performance in Dresden, while the rest of the cast sang in French. She also appeared at the Metropolitan in the roles of Musetta in La Boheme and the First Boy in The Magic Flute.

From 1903 to 1905, Liebling was the soprano soloist for John Philip Sousa's band, which toured throughout the United States and Europe. She sang some sixteen hundred times with Sousa, never missing a performance-a testament to her strength of will, strength of constitution, and reliable vocal technique. Critics praised the great facility and flexibility and the extraordinary range and sweetness of her voice.

In 1905, Liebling married Arthur Rembrandt Mosler, an engineer, and inventor, the son of the American painter Henry Mosler. The wedding announcements in the newspapers stated that marriage would not mean the end of Liebling's musical activities, and this was true, although in the course of the next two decades Liebling devoted less time to performing and more to teaching. The marriage, which lasted until Mosler's death in 1953, produced one son, Arthur Mosler, Jr.