Displaying 1-2 of 2 items.
---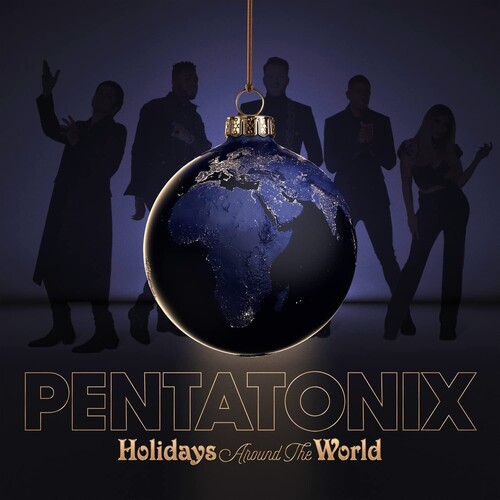 Pentatonix : Holidays Around The World
Review: 2022 holiday release containing music from the vocal group's Disney+ Christmas special. Pentatonix is struggling to find inspiration for their annual holiday album, and the clock is ticking. To make matters worse, their well-intentioned but misguided manager mistakenly locks them in a magic mailroom. But with the help of some Disney magic, we're soon on a whirlwind tour around the world, discovering holiday traditions and inspiration from Pentatonix fans all around the globe: from Tokyo to Grenada, Ghana to Mexico and Iceland. The fun-filled journey leads the group to realize that wherever we find ourselves, the holidays offer the perfect opportunity to discover how much we have in common and that it really is a small world after all!
Songlist: Kid on Christmas (Featuring Meghan Trainor), It's the Most Wonderful Time of the Year, Love Came on Christmas, Star on Top, Prayers for This World, Hark! the Herald Angels Sing, Christmas in Our Hearts (Featuring Lea Salonga), Feliz Navidad, Last Christmas, Silent Night (Featuring the King's Singers)

---
Voctave : The Spirit of the Season
Review: Just as Voctave is a musical ensemble greater than the sum of it's 11 members, The Spirit of The Season (Deluxe Edition) is greater than the sum of it's brilliant song selections, the intricate arrangements and the angelic voices. From traditional moments like O Holy Night and O Come O Come Emmanuel to jolly strains of Frosty The Snowman and The Man With The Bag to newer Christmas classics like Where Are You Christmas and Mary Did You Know?, Voctave has truly given us all a treasured gift that represents so many of the beautiful moments of the Yuletide season. This elegant recording is sure to be the favorite in your home for many seasons to come.
Songlist: Spirit of the Season, Have Yourself a Merry Little Christmas, Carol of the Bells of Notre Dame Medley, All Is Well, Happy Holiday/The Holiday Season, Merry Christmas, Darling, Childhood Favorites, Mary, Did You Know?, The Christmas Song, Where Are You Christmas, The Man with the Bag, O Come, O Come Emmanuel, Go Tell It on the Mountain, O Holy Night, Let There Be Peace on Earth