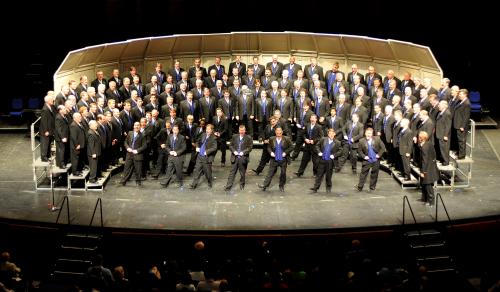 Group.
Pull together a group of 100+ men volunteering from all walks of life with varying degrees of musical talent and experience, ask them to sing, and the listener may hear something that resembles beautiful music. But call that group The Vocal Majority Chorus and stand Jim Clancy before them in the role of director, and one is in store for an extraordinary musical experience from a group that has touched literally tens of thousands of listeners around the world. The Vocal Majority Chorus' diverse repertoire encompasses music from barbershop favorites, classics to jazz, patriotic to sacred, rounded out with standards and Broadway pops.

The Chorus counts tens of thousands in its list of VM fans. Relationships with other performers and supporters have been remarkable, but undoubtedly there is a relationship that has stood above the others.
Discography
Displaying 1-18 of 18 items.
Female Barbershop Groups | Female Barbershop CDs | Male Barbershop Groups | Male Chorus CDs | Male Quartet CDs | International Champions
Mixed Voice Groups | Barbershop DVDs | Christmas | Barbershop Instructional | Barbershop Parts CDs | Barbershop Arrangements | New
---
Specialty Arrangements
---