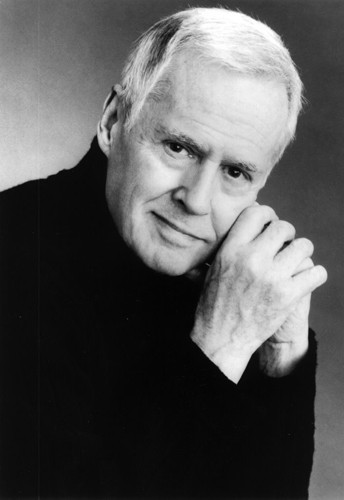 Words and music are inextricably linked for Ned Rorem. Time Magazine has called him "the world's best composer of art songs," yet his musical and literary ventures extend far beyond this specialized field. Rorem has composed three symphonies, four piano concertos and an array of other orchestral works, music for numerous combinations of chamber forces, ten operas, choral works of every description, ballets and other music for the theater, and literally hundreds of songs and cycles. He is the author of sixteen books, including five volumes of diaries and collections of lectures and criticism.

Composers - Early Music | Classical | 20th Century | Modern
Displaying 1-4 of 4 items.
Displaying 1-20 of 20 items.
| Song Name | Arranger | Composer | Artist | Item Title | Format | | Trax |
| --- | --- | --- | --- | --- | --- | --- | --- |
| Adieu, Farewell Earth's Bliss | | Ned Rorem | Swedish Radio Choir | Visions and Non Thoughts | 1 CD | MORE DETAILS | |
| Afternoon on a Hill | | Ned Rorem | | Afternoon on a Hill | Sheet Music (2-Part) | MORE DETAILS | |
| Beauty is But a Flower | | Ned Rorem | Swedish Radio Choir | Visions and Non Thoughts | 1 CD | MORE DETAILS | |
| Haste Therefore Each Degree | | Ned Rorem | Swedish Radio Choir | Visions and Non Thoughts | 1 CD | MORE DETAILS | |
| O Deus, ego amo te | | Ned Rorem | Oxford New College Choir | Copland and His American Contemporaries | 1 CD | MORE DETAILS | |
| Oratio patris condren: O Jesu Vivens in Maria | | Ned Rorem | Oxford New College Choir | Copland and His American Contemporaries | 1 CD | MORE DETAILS | |
| Orchids | | Ned Rorem | Mary King | Boosey Voice Coach - High Voice | Songbook & CD | MORE DETAILS | |
| Psalm 110 | | Ned Rorem | | Psalm 110 | Sheet Music (SATB) | MORE DETAILS | |
| Rich Men, Trust not in Wealth | | Ned Rorem | Swedish Radio Choir | Visions and Non Thoughts | 1 CD | MORE DETAILS | |
| Samuel's Aria (THREE SISTERS WHO ARE NOT SISTERS) | | Ned Rorem | Philip Brunelle | American Arias - Tenor | Songbook & Online Audio | MORE DETAILS | |
| Shout The Glad Tidings | | Ned Rorem | Concordia Choir | Today Heaven Sings | 1 CD | MORE DETAILS | |
| Shout the Glad Tidings | | Ned Rorem | Kansas City Chorale | Nativitas | 1 CD | MORE DETAILS | |
| Shout The Glad Tidings | | Ned Rorem | Minnesota Choral Artists | Shout the Glad Tidings! | 1 CD | MORE DETAILS | |
| Sing, My Soul, His Wondrous Love | | Ned Rorem | VocalEssence | A Bluegrass Mass | 1 CD | MORE DETAILS | |
| Strength Stoops Unto the Grave | | Ned Rorem | Swedish Radio Choir | Visions and Non Thoughts | 1 CD | MORE DETAILS | |
| The Norway Aria (BERTHA)- | | Ned Rorem | Philip Brunelle | American Arias - Mezzo-Soprano | Songbook & CD | MORE DETAILS | |
| The Serpent | | Ned Rorem | Mary King | Boosey Voice Coach - High Voice | Songbook & CD | MORE DETAILS | |
| Thee, God... | | Ned Rorem | Oxford New College Choir | Copland and His American Contemporaries | 1 CD | MORE DETAILS | |
| While All Things Were In Quiet Silence | | Ned Rorem | Handel and Haydn Society | All Is Bright | 1 CD | MORE DETAILS | |
| With With his Wantonness | | Ned Rorem | Swedish Radio Choir | Visions and Non Thoughts | 1 CD | MORE DETAILS | |
---
All Rights Reserved All Content, page design, CGI Copyright © United Singers International