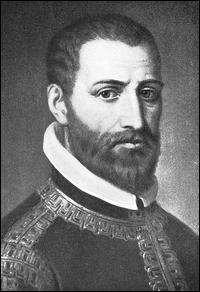 Josquin Des Prez was one of the most influential and widely regarded composers in the history of Western music, so famous that he is known merely by his first name. Josquin was apparently born in the Duchy of Burgundy, in modern Belgium. He spent a large portion of his middle years in various Italian cities as a highly sought master of music, and then retired to Conde (in Northeast France) late in his life. Josquin's extended sojourns in Italy allowed him not only to spread the Northern polyphonic style there, but to pick up some of the Southern vitality noticeable in many of his secular works. However, his extended works are always marked by a subtlety and serenity characteristic of the Franco-Flemish school.

Composers - Early Music | Classical | 20th Century | Modern
Displaying 1-4 of 4 items.
Displaying 1-45 of 45 items.
| Song Name | Arranger | Composer | Artist | Item Title | Format | | Trax |
| --- | --- | --- | --- | --- | --- | --- | --- |
| Absalon Fili Mi | | Josquin Desprez | Cantus | Live Vol. 2 | 1 CD | MORE DETAILS | |
| Absalon fili mi; In paradisum | | Josquin Desprez | New York Polyphony | endBeginning | SACD | MORE DETAILS | |
| Absalon, fili mi | | Josquin Desprez | Cantus | Against The Dying Of The Light | 1 CD | MORE DETAILS | |
| Absalon, Fili Mi | | Josquin Desprez | Choir of Clare College | Lamentations | 1 CD | MORE DETAILS | |
| Agnus Dei | | Josquin Desprez | Cappella Alamire | The Early Josquin | 1 CD | MORE DETAILS | |
| Agnus Dei I, II & III | Peter Phillips | Josquin Desprez | Tallis Scholars | Josquin | 1 CD | MORE DETAILS | |
| Agnus Dei I, II & III | Peter Phillips | Josquin Desprez | Tallis Scholars | Josquin | 1 CD | MORE DETAILS | |
| Agnus Dei I, II & III | Peter Phillips | Josquin Desprez | Tallis Scholars | Josquin | 1 CD | MORE DETAILS | |
| Ave festiva ferculis | | Josquin Desprez | Orlando Consort | The Toledo Summit | 1 CD | MORE DETAILS | |
| Ave Maria | | Josquin Desprez | Chanticleer | Magnificat | 1 CD | MORE DETAILS | |
| Ave Maria | | Josquin Desprez | Voices of Ascension | Beyond Chant: Mysteries of the Renaissance | 1 CD | MORE DETAILS | |
| Ave Maria | | Josquin Desprez | John Rutter (Editor) | European Sacred Music | Songbook | MORE DETAILS | |
| Ave Maria | | Josquin Desprez | Cambridge Singers | The Sacred Flame | 1 CD | MORE DETAILS | |
| Benedicta es | | Josquin Desprez | Tallis Scholars | Palestrina Masses - Missa Benedicta es | 1 CD | MORE DETAILS | |
| Credo | | Josquin Desprez | Cappella Alamire | The Early Josquin | 1 CD | MORE DETAILS | |
| Credo | Peter Phillips | Josquin Desprez | Tallis Scholars | Josquin | 1 CD | MORE DETAILS | |
| Credo | Peter Phillips | Josquin Desprez | Tallis Scholars | Josquin | 1 CD | MORE DETAILS | |
| Credo De tous biens playne | | Josquin Desprez | Cappella Alamire | The Early Josquin | 1 CD | MORE DETAILS | |
| Credo Sine nomine | | Josquin Desprez | Cappella Alamire | The Early Josquin | 1 CD | MORE DETAILS | |
| Credo Sine nomine (canonic) | | Josquin Desprez | Cappella Alamire | The Early Josquin | 1 CD | MORE DETAILS | |
| Gloria | | Josquin Desprez | Cappella Alamire | The Early Josquin | 1 CD | MORE DETAILS | |
| Gloria | Peter Phillips | Josquin Desprez | Tallis Scholars | Josquin | 1 CD | MORE DETAILS | |
| Gloria | Peter Phillips | Josquin Desprez | Tallis Scholars | Josquin | 1 CD | MORE DETAILS | |
| Gloria | | Josquin DesPrez | | Gloria | Sheet Music (TTBB) | MORE DETAILS | |
| In te, Domine, speravi | | Josquin Desprez | Orlando Consort | The Toledo Summit | 1 CD | MORE DETAILS | |
| Kyrie | | Josquin Desprez | Cappella Alamire | The Early Josquin | 1 CD | MORE DETAILS | |
| Kyrie | Peter Phillips | Josquin Desprez | Tallis Scholars | Josquin | 1 CD | MORE DETAILS | |
| Kyrie | Peter Phillips | Josquin Desprez | Tallis Scholars | Josquin | 1 CD | MORE DETAILS | |
| Magnificat | | Josquin Desprez | Cappella Alamire | The Early Josquin | 1 CD | MORE DETAILS | |
| Mille regrets | | Josquin Desprez | Clifford Bartlett | Madrigals and Partsongs | Songbook | MORE DETAILS | |
| Missa L'ami baudechon | | Josquin Desprez | Cappella Alamire | The Early Josquin | 1 CD | MORE DETAILS | |
| Nunc dimittis | | Josquin Desprez | Oxford Camerata | Renaissance Masterpieces | 1 CD | MORE DETAILS | |
| Nymphes, nappes | | Josquin Desprez | King's Singers | Requiem | 1 CD | MORE DETAILS | |
| Praeter rerum seriem | | Josquin Desprez | Tallis Scholars | Essential Tallis Scholars | 1 CD | MORE DETAILS | |
| Qui habitat | | Josquin Desprez | Huelgas Ensemble | 40 Voices | SACD | MORE DETAILS | |
| Renaissance Music - No. 6 Tu pauperum refugium | | Josquin Desprez | David P. DeVenney | Conducting Choirs Vol 2 - Music For Classroom Use | Book & 1 CD | MORE DETAILS | |
| Salve Regina | | Josquin Desprez | Chanticleer | Magnificat | 1 CD | MORE DETAILS | |
| Salve regina | | Josquin Desprez | King's Singers | Requiem | 1 CD | MORE DETAILS | |
| Sanctus | | Josquin Desprez | Cappella Alamire | The Early Josquin | 1 CD | MORE DETAILS | |
| Sanctus & Benedictus | Peter Phillips | Josquin Desprez | Tallis Scholars | Josquin | 1 CD | MORE DETAILS | |
| Sanctus & Benedictus | Peter Phillips | Josquin Desprez | Tallis Scholars | Josquin | 1 CD | MORE DETAILS | |
| Sanctus & Benedictus | Peter Phillips | Josquin Desprez | Tallis Scholars | Josquin | 1 CD | MORE DETAILS | |
| The cricket | | Josquin Desprez | Egon Kraus (Editor) | More European Madrigals For Mixed Voices | Songbook | MORE DETAILS | |
| The Pauperum Refugium | | Josquin Desprez | Cantus | Vagabond | 1 CD | MORE DETAILS | |
| Tu Pauperum Refugium | | Josquin Desprez | Voices of Ascension | Beyond Chant: Mysteries of the Renaissance | 1 CD | MORE DETAILS | |
---
All Rights Reserved All Content, page design, CGI Copyright © United Singers International