Displaying 1-3 of 3 items.
---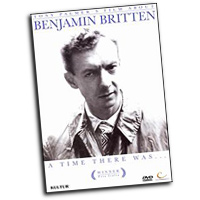 Review: This musical documentary profiles British composer/conductor Benjamin Britten. Directed by filmmaker Tony Palmer, who also documented opera legend Maria Callas, it mixes biography with excerpts from such famed operas as Death in Venice and Peter Grimes. A special segment shows archival footage of the maestro working his magic behind the scenes in rehearsal. Interviews include a moment with Leonard Bernstein, who touches on the genius and the pain of "a man at odds with the world." With a running time of 102 minutes, this award-winning video hits all the right notes for the classical aficionado.
Songlist: Leonard Bernstein & Cousin Elsie, Britton as Conductor & Pianist, The Sea & Lowestoft, Early Compositions, Music for Films, Journey To America, Peter Grimes, Aldeburgh, Phaedra and Rape of Lucretia, The Aldeburgh Festival - Beginnings, Writing to Commission, The Sea, Travel, The Maltings Concert Hal, The Public Figure, Death in Venice, An Excellent Patient, Last Visit to Venice, "What Will It Be Like - Death?", "I Was Lost on an Infinite Sea"

---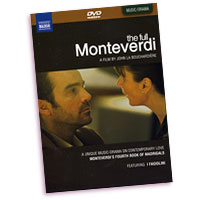 Review: One of the most moving collections of Renaissance vocal music brought to life as a contemporary drama specifically for the screen. Claudio Monteverdi's Fourth book of Madrigals (1603) explores differing emotional states of abandoned lovers through the most dramatic and amazingly modern music for vocal ensemble. The Full Monteverdi follows the simultaneous break-up of six couples, from shocking revelation, vengeful anger and erotic longing for reconciliation, as an ensemble film. Vulnerable and disarming, it draws viewers into its emotional journey and intensely moving portrait of contemporary love. Seated in a restaurant, the six couples begin to quarrel over dinner. Onlookers are drawn to the interactions of their fellow diners, yet also wary of their invasive gaze, as the relationships fragment before their eyes. The couples fight over moments in the past, then reflect on better times and unrealised dreams. Ultimately, the six (singing) lovers are left to contemplate life alone. The film takes place over an evening and following morning, with several scenes shot as flashback, giving viewers the back-story to the lovers' downfall. The film is sung throughout.
Songlist: Ah! Dolente Partita, Cor mio, Mentre vi Miro, Cor mio, non mori? E mori!, Sfogava con le stelle, Volgea L' Anima Mia Soabement, Anima Mia Perdona, Luci serene e chiare, La piaga c'ho nel core, Voi Pur Da Me Partite, A Un Giro Sol, Ohime, se tanto amate, lo mi son giovinetta, Quell' Augellin, che canta, Non Piu Guerra, Pietate, Si Ch'io vorrei morire, Anima Dolorosa che vivendo, Anima del cor mio, Longe da te, cor mio, Piagn'e sospira

---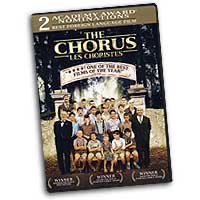 Les Choristes : The Chorus / Les Choristes DVD
Review: An inspirational story in the rich tradition of Music Of The Heart and Mr. Holland's Opus, The Chorus has moved critics everywhere to declare it one of the year's very best films! When he takes a job teaching music at a school for troubled boys, Clement Mathieu is unprepared for its harsh discipline and depressing atmosphere. But with passion and unconventional teaching methods, he's able to spark his students' interest in music and bring them a newfound joy! It also puts him at odds with the school's overbearing headmaster, however, locking Mathieu in a battle between politics and the determination to change his pupils' lives!