Five Red Caps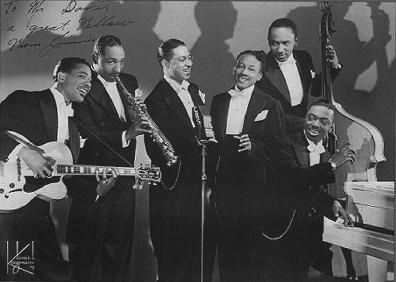 The group began in 1940 Los Angeles, moving to New York in search of fame and fortune and were one of the most prolific and influential groups of the 1940s and 1950s. They had releases on many labels, using many names and featuring diverse personnel. In mid-1943 the 4 Toppers changed their name to the 5 Red Caps and signed with the legendary producer Joe Davis. Romaine Brown said that the name had a catchy sound and it "sounded black," like the "Ink Spots." Red caps (the traditional headgear of baggage handlers on trains and planes) were rarely worn by the group (possibly only for some photo sessions, during a show at Loew's State Theater, and in a 1949 movie). Springs said that another reason for the name change was to get around the recording ban imposed at that time by the American Federation Of Musicians (the first Petrillo Ban). No union musician was permitted to make records between August 1, 1942 and November of 1943. The Red Caps name was intended as a coverup, since all the members belonged to the union and shouldn't have been recording. But it was soon discovered by the union, which fined the group.

Discography
It's So Good! 1943 - 1951
Don't Fool With Me
There's A Light On The Hill
Tuscaloosa
Mama Put Your Britches On
No Fish Today
Grand Central Station
Just For You
I've Learned A Lesson I'll Never Forget
Lennox Avenue Jump
Boogie Woogie Bal
Strictly On The Safe Side
Somebody's Lyin'
Was It You
Gabriel's Band
Sugar Lips
It's So Good Good Good
I'm Crazy About You
Mary Had A Little Jam
Boogie Woogie On A Saturday Night
Atlanta GA
Get Off That Kick
It's Got A Hole In It
Monkey And The Baboon
You Can't See The Sun When You're Crying
Jack You're Dead
Wedding Bells Are Breaking Up That Old Gang Of Mine
If Money Grew On Trees
Palace Of Stone
I'm Living For You
Scratch And You'll Find It
Danny Boy
Blueberry Hill
I Want A Roof Over My Head
The Thing
Am I To Blame
Sidewalk Shuffle
Would I Mind
When You Come Back To Me
Boogie Woogie On A Saturday Night
Shame
Three Dollars ANd Ninety Eight Cents
D'ya Eat Yet Joe
Forty three lilting, rockin' and proto-doowoppin' harmony cuts from Steve Gibson and The Redcaps one of the most popular jump and jive vocal groups of the 1940's. The Five Red Caps began in 1940 Los Angeles, moving to New York in search of fame and fortune. After meeting record label owner Joe Davis (Beacon) in 1943, the multi-talented group, who also played their own instruments, recorded 26 singles for Davis from 1943-46. From rhythm-oriented jive boogie, velvety Ink Spots-style ballads, and the earnest gospel sound, a lá groups of the 1930's such as the Golden Gate Quartet, the Five Red Caps did it all. The Redcaps enjoyed many hit records and appeared in movies, on radio and the emerging TV medium. Like many other groups of the period their roots can be traced back to the unprecedented influence of The Mills Brothers.

---

VOCAL JAZZ - Home | Vocal Jazz Groups | Recordings | Arrangements | DVDs | Christmas | Vocal Jazz Instructional

VINTAGE VOCAL JAZZ - Vintage Groups | Vintage CDs | Black Vocal Groups | Black Vocal Groups CDs | Christmas | Womens Vintage
---
Vocal Jazz | Doo Wop | Contemporary | Barbershop | Christian | Collegiate | World | Choral
Patriotic | The Groups | The Directors | The Vocal Coaches | Choral Development
Arrangements | Vintage Harmony | Christmas | DVDs | Instructional for Singers

The Harmony Sweepstakes A Cappella Festival


RSS - New Releases
Site Map | A Cappella News | Regional Newsgroups | RSS a cappella feeds
To find a specific song on any recording (or to find recordings by group name or CD title),
pick the search method and type the item you are searching for here:


All Rights Reserved All Content, page design, CGI Copyright © United Singers International