No Place For Jennifer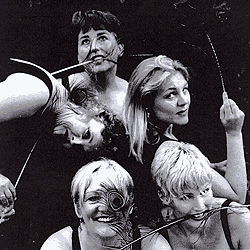 This talented a cappella quintet consists of Ellen Bakker, Caroline van Bavel, Lizzie Kean, Inge Bakker, and Mariette Kroese. The Netherlands¹ best known female a cappella group has been touring theatres for seven years now, bringing innovative shows each season, and constantly exploring the boundaries of the voice as instrument. Their music is characterized by the breath-taking vocal quality, the outstanding range of the five voices, the unusual arrangements and last, but not least, the quirky presentation in which humor is of paramount importance. No Place for Jennifer has produced two CDs, both available in Europe, Canada, and the US. Their arrangement of the song "Tell My Feet" was voted "best folk/ progressive song of 1997" in America, and their own composition "Witness" received second prize in the Contemporary A Cappella Recording Awards in 1999.
The critics say: "ŠThese are five strong females who tell it like it is, without stridency, but with a welcome sense of truth." "They are the flesh and blood of a cappella."
Discography
Welcome To The Game
Seinn Oi
Balada Para Un Loco
Spain
Tell My Feet
Regrets
Another Suitcase in Another Hall
Love For Sale
Pretty Legs and Great Big Knockers
Mirror Mirror
Caravan
La Chanson Des Vieux Amants
Blood And Gold
Remember
The Dutch "No Place For Jennifer" have produced an idiosyncratic CD to accompany the theatre production of the same name: "Welcome to the Game." These are five strong females who tell it like it is, without stridency, but with a welcome sense of truth. Songs like "Blood and Gold," with its depiction of war, and "Another Suitcase In The Hall," ("I don't expect my love affairs to last" is the opening line) display a maturity not often encountered. The sound is eclectic; consonant one moment, dissonant the next; melodies slippery, even demanding. A depthful and intense recording.

---
Witness
Witness
Niagra Falls
Something So Right
Forgiven
At Seventeen
She's Leaving Home
Every Breath You Take
Miss Otis Regrets
Constant Craving
You Learn
They Dance Alone
No Song Without You
The CARA Award winning "No Place For Jennifer" (1997, "Tell My Feet") are back with their 1998 release, "Witness." Including three originals (written by Lizzie Kean, who is also the group¹s arranger), these five Dutch women have assembled a dense patchwork of parts into an aural quilt that is unmistakeably their own. Weaving in and out of challenging intervals and unexpected chords, tailored with an intricacy that requires repeated listening to appreciate fully, "She's Leaving Home," (Lennon/McCartney) is worth special mention. Other tracks include "You Learn," "At Seventeen" and "Constant Craving."
---
---
To find a specific song on any recording (or to find recordings by group name or CD title),
pick the search method and type the item you are searching for here: