Dilemma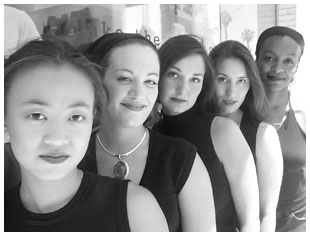 Take the power of rock, the grit of blues, and the smooth groove of R&B. add commanding vocal percussion, an impressive bass line, a compelling vocal and stylistic range and you have the 5-woman group -- Dilemma! based in the San Francisco bay area, Dilemma was founded in November 1998 by a group of women who wanted to challenge the traditional female a cappella sound. The result is dynamic and powerful music encompassing a range of original compositions and covers. audiences are continually impressed with solid harmonies, captivating melodies, engaging stage presence, and an infectious beat. Dilemma has entertained at corporate events to great acclaim and repeatedly dazzles local cafÈ and club audiences. with voices that command attention and performances that resonate, dilemma is winning an instant fan base and breaking down the boundaries of female a cappella.
Discography
Dilemma
Can't Get Next To You
Wishing
Can't Take My Eyes Off You
Crucial
Hot Stuff
It Hurts So Bad
Song For A Winter's Night
I'm Beginning To See The Light
The Sweetest Thing
That I Would Be Good
Hit Me With Your Best Shot
Don't Leave Me This Way
We'll Be Together
Dilemma's logo on the front of this CD has a halo over the "d" and the "a" at the end finishes in a devil's pointed tail. And the picture of the group, Rahela Abbas, Christine Chang, Denise Shepherd, Suzanna Smith and Tracey Van Hooser, portrays the five women looking at us in a "What are you looking at" kind of way. Dilemma, who we enjoyed at last year's Harmony Sweepstakes Bay Area Regional, have come into their power! 13 songs, of which two, "Wishing" and "Crucial" are originals: The Temptations' "Can't Get Next to You," "Can't Take My Eyes Off You," Donna Summer's kick-ass "Hot Stuff," "It Hurt So Bad," "Song for a Winter's Night," "I'm Beginning to See the Light," "The Sweetest Thing" (Tell Him), "That I Would Be Good," "Hit Me With Your Best Shot," "Don't Leave Me This Way" and "We'll Be Together." Very strong vocal percussion keeps Dilemma's sound cooking, and allows the voices to go off of the melody and play. Strong arrangements and affirmative song selection, and a willingness to let go and take chances all add up to a breakthrough CD. But angels or devils? A little taste of both!
Listen to "Crucial" in Real Audio.

---
---
To find a specific song on any recording (or to find recordings by group name or CD title),
pick the search method and type the item you are searching for here: