10fm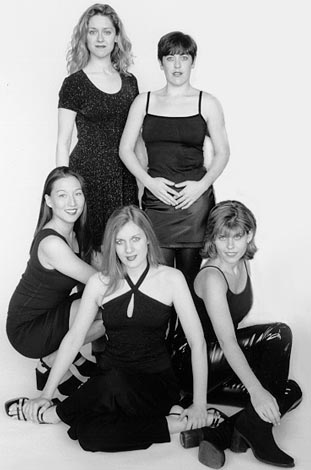 New York City's all-female a cappella group 10fm is making music fans rethink their definition of a cappella. Hearing the word, most people will have images of the Andrews Sisters, or a fifties doo-wop group. Though these American cultural icons undeniably formed the foundation for the richly varied world of modern a cappella, groups like 10fm bear little resemblance to these voices of the past. Now, with satisfying bass, startling vocal percussion, and spare but powerful chords, 10fm has reinvented women's a cappella and given it a whole new and refreshing personality.
Starting as a traditional collegiate-style cover group in 1996, 10fm steadily evolved over the years, eventually borrowing techniques from the contemporary male a cappella format "vocal band" and ultimately tightening to a group of five highly trained singers. Their versatility is infectious. Now, not only are they often seen in classic Greenwich Village standbys like The Bitter End and The Bottom Line, but they have competed in the finals of the New York Lilith Fair Talent Showcase, headlined at the annual East Coast A cappella Summit, and hosted the New England Regional of the National Competition of Collegiate A cappella.
With their first album delighting a cappella fans and pop/rock fans alike, 10fm has proven that a mix of addictive originals and innovative covers packs a powerful punch for modern audiences.
Discography
History of Things To Come
Stupid Girl
Carry You With Me
How Deep Is Your Love
Ladder
Something On Paper
Kicking, Screaming
I Feel The Earth Move
The Star Spangled Banner
Something On Paper (Remix) l
There are very few female A Cappella/Vocal Percussion ensembles to speak of, and 10fm is one that seems to be making headway in this very male dominated genre. Most of the song titles are familiar, including arrangements of Carole King's "I Feel the Earth Move", Garbage's "Stupid Girl", Joan Osborne's "Ladder", and The Bee Gee's "How Deep is Your Love". Very interesting arrangements of these popular radio songs, coupled with heavy use of vocal percussion, give this CD an original and distinctive zest. Overall, the work is solid, but the highlight of the CD is "The Star Spangled Banner," where the harmonies and vocal talent of this quintet are truly demonstrated.

---
To find a specific song on any recording (or to find recordings by group name or CD title),
pick the search method and type the item you are searching for here: