| | |
| --- | --- |
| Voicing: | SATB |
| Format: | Sheet Music |
| Accompaniment: | A Cappella |
| Arranger: | K. Lee Scott |
| Music Category: | World |
| Music series: | Gentry Choral Series |
| Country: | Wales |
| Dimensions: | 10.50 X 7.00, 8 pages |
| Item Code: | 08738640 |
---
The above folio is also available in this package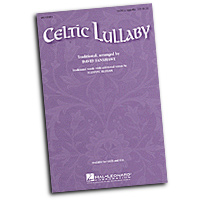 Various Arrangers : A Cappella Lullabies
Lullabies have been around for thousands of years and in almost all cultures and are probably some of the very first songs ever sung by humans. A lullaby is not surprising appreciated by many of us even as we age and they can be a pleasant addition to any concert. Here are a collection of interesting arrangements of lullabies from Europe.
Songlist: A Welsh Lullaby, Celtic Lullaby, Hush Little Baby, Lullaby, Three Lullabies, Op. 49

---
Related Items
Displaying 1-1 of 1 items.
---