Vocal Harmony Groups in the Movies
There have been vocal harmony groups in movies since the beginning of Hollywood yet there has only been a handful of films about the groups themselves. It is fortunate that these movie are actually pretty darn good and can be enjoyed over and again. There are also several documentaries which give an interesting insights to the artists themselves.
Most people don't think about singing when they think about revolution. But song was the weapon of choice when Estonians sought to free themselves from decades of Soviet occupation. The Singing Revolution is an inspiring account of one nation's dramatic rebirth. It is the story of humankind's irrepressible drive for freedom and self-determination. Hundreds of thousands of people faced down their oppressors... armed only with hope, truth and song. Recommended.

---
The Young@Heart Chorus is a vocal group from Northampton, MA, who have earned an international reputation for their unique interpretations of songs by Sonic Youth, the Ramones, and the Clash. However, this isn't a teenage garage band attacking the classic punk rock songbook -- the Young@Heart Chorus is comprised of 22 senior citizens whose average age is 80, and under director Bob Cilman they've gained a degree of fame for their enthusiastic a cappella renditions of well-known rock & roll tunes. Filmmaker Stephen Walker spent several weeks with the members of the Young@Heart Chorus as they rehearsed for their annual concert in Northampton, and Young@Heart is a documentary which offers a look at their rigorous rehearsal process, the background of several members, and their efforts to stay active and think positive, even as their friends succumb to old age. Produced for British television, Young@Heart was screened in competition at the 2007 Los Angeles Film Festival.
---
Los Zafiros: Music From the Edge of Time
Opening
Cuando Yo Lo Conoci
Cuba and America- 1950's and '60s
Interviews
Two Roads to Home
Survivors and Casualties
Caya Hueso Street Interviews
Reflections of Families and Friends
Naming Los Zafiros
Return to Egrem Studios
Los Zafiros in Europe
Miguel Reunites With Chino's Brother
Los Nuevos Zafiros
Coming Apart
Egrem Studios "Mis Sentimientos"
Galban and Cancio to Cementerio Cristobal Colon
"They Will Never Be Forgotten"
Los Zafiros
Music, History and emotion fuel this dynamic, award-winning film tribute from producer-director Lorenzo DeStefano. For those whose lives they deeply touched, Los Zafiros are legends. Often Referred to as The Beatles of 1960s Cuba, The Sapphires were a Cuban musical phenomenon molded by their time and place. Bes described as world music before there was world music, they caused a sensation in Havana and beyond into the early 1970s with their brilliant mix of American-inspired doo-wop touched with Afro-Cuban rhythms, salsa, son and other traditional Latin Forms.
---
Ah! Dolente Partita i
Cor mio, Mentre vi Miro
Cor mio, non mori? E mori!
Sfogava con le stelle
Volgea L' Anima Mia Soabement
Anima Mia Perdona
Luci serene e chiare
La piaga c'ho nel core
Voi Pur Da Me Partite
A Un Giro Sol
Ohime, se tanto amate
lo mi son giovinetta
Quell' Augellin, che canta
Non Piu Guerra, Pietate
Si Ch'io vorrei morire
Anima Dolorosa che vivendo
Anima del cor mio
Longe da te, cor mio
Piagn'e sospira
One of the most moving collections of Renaissance vocal music brought to life as a contemporary drama specifically for the screen. Claudio Monteverdi's Fourth book of Madrigals (1603) explores differing emotional states of abandoned lovers through the most dramatic and amazingly modern music for vocal ensemble. The Full Monteverdi follows the simultaneous break-up of six couples, from shocking revelation, vengeful anger and erotic longing for reconciliation, as an ensemble film. Vulnerable and disarming, it draws viewers into its emotional journey and intensely moving portrait of contemporary love. Seated in a restaurant, the six couples begin to quarrel over dinner. Onlookers are drawn to the interactions of their fellow diners, yet also wary of their invasive gaze, as the relationships fragment before their eyes. The couples fight over moments in the past, then reflect on better times and unrealised dreams. Ultimately, the six (singing) lovers are left to contemplate life alone. The film takes place over an evening and following morning, with several scenes shot as flashback, giving viewers the back-story to the lovers' downfall. The film is sung throughout.
---
Herbert Chappell's highly acclaimed original BBC Film is the story of a remarkable journey made by the composer and explorer David Fanshawe which inspired his celebrated work African Sanctus. The film retraces his musical steps up the river Nile to the source of the Nile`s music. Featuring many of the original musicians he first recorded in 1969, Fanshawe explains the ethos behind his work and the process of composition. On a quest to find his African mentor, The Hippo Man, he ventures forth. The original film African Sanctus was the BBC nomination for the 1976 rix Italia Prize, nominated for the greatest creative contribution to television. The Updated Film, (Director Herbert Chappell 1995), projects stirring and poignant images of Africa, This film combines authentic footage spanning 20 years, with Fanshawe`s brilliant and innovative score. We see glimpses of the performance with The Bournemouth Symphony Chorus, Choristers of St Georges Cathedral, solo Wilhelmenia Fernandez, conducted by Neville Creed. The film also introduces Fanshawe`s new work Dona Nobis Pacem - A Hymn for World Peace. African Sanctus is a visionary work which expresses unity between diverse peoples their faiths and their music. African Sanctus is testimony to the rich heritage of world music and has became a landmark in our musical lives.
---

Filled with topflight performances and unforgettable music, this entertaining and critically acclaimed story was cheered by audiences everywhere! When Harry, a struggling but highly imaginative funnyman, forms a singing group with an unusual group of friends, "The Comedian Harmonists" go on to become an overnight sensation in prewar Germany. But as their wave of success inevitably collides with the nation's changing political tide, the group's members are forced to face unprecedented challenges that will try their wills and test their loyalty! An award winner at several prestigious film festivals - The Harmonists is another outstanding motion picture you dont want to miss. This film is 115 Minutes long, is presented in German with yellow English subtitles and is the first full length motion picture to be added to the Primarily A Cappella catalog.
---

In a time of war, and extraordinary group of women turned a song of hope into a symphony of triumph. From the director of "Driving Miss Daisy" come a true story of courage, triumph, friendship and strength starring Glenn Close ("Dangerous Liaisons"), Oscar winner Frances McDormand (1996 Best Actress, "Fargo") and Emmy Award winner Juliana Marguiles (TV's "ER"). This compelling drama reveals the heroic actions of a group of women help prisoner by the Japanese during World War II. These diverse women from different countries, speaking different languages, unite to form a vocal orchestra – a life affirming symphony of human voices.

---
Les Choristes (The Chorus)

An inspirational story in the rich tradition of Music Of The Heart and Mr. Holland's Opus, The Chorus has moved critics everywhere to declare it one of the year's very best films! When he takes a job teaching music at a school for troubled boys, Clement Mathieu is unprepared for its harsh discipline and depressing atmosphere. But with passion and unconventional teaching methods, he's able to spark his students' interest in music and bring them a newfound joy! It also puts him at odds with the school's overbearing headmaster, however, locking Mathieu in a battle between politics and the determination to change his pupils' lives! Nominated for two Oscars.
---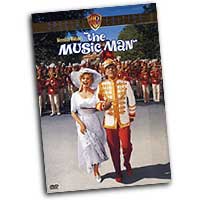 The movie that made barbershop singing popular! Charming con man Harold Hill (Robert Preston) wants to steal River City, Iowans' money with a "boys' band" scam but finds it hard to skip town when lovely librarian Marian Paroo (Shirley Jones) steals his heart. Composer Meredith Willson's valentine to his hometown (Mason City) packs great songs and wonderful performances from, among others, Buddy Hackett and a young Ron Howard. One of the best-loved musicals, Meredith Willson's "The Music Man," opened on Broadway on December 19, 1957. The stage production and this subsequent 1962 film featured one of the Barbershop Harmony Society's most memorable quartets, the Buffalo Bills, and thrust barbershop harmony into a broad spectrum of public light.
The original founding members in 1947 were Vern Reed, Bill Spangenberg, Hershel Smith and Al Shea (who was replaced by Dick Grapes in 1950). The quartet won the Barbershop Harmony Society Gold Medal in 1950 with what was then the largest point accumulation in Society history. The Buffalo Bills were the face of barbershop for years, starring in 728 concerts, 216 television shows, 1,510 Broadway appearances, 626 conventions, 675 radio shows, 672 night club and hotel appearances, 137 state fair performances, 15 record albums and a major motion picture. They were regulars on the Arthur Godfrey radio show and traveled to military bases around the world.
---

If you love world music, or more specifically, the music of Ladysmith Black Mambazo, you are sure to love this academy award nominated documentary. Directed by Eric Simonson and spanning three continents, ON TIP TOE follows the captivating story of South African musician Joseph Shabalala and his unique singing ensemble. Best known on these shores for their innovative support on Paul Simon's Grammy-winning album, Graceland, Mambazo has crafted an extraordinary hybrid of traditional Zulu harmonies and unconventional Western influences, including gospel, ragtime, doo wop and even rock 'n roll. Made up of seven bass voices, a tenor, a male alto and Shabalala as lead vocalist, Mambazo amazingly incorporates the light, syncopated stomping of "Isicathamiya"(meaning "on tip toe"), a style born theough the strains of apartheid. This entertaining and informative documentary traces the fascinating origins of Shabalala's tuneful creations, featuring interviews with Paul Simon and extensive live footage of Mambazo's performances.
---

Beyond Words traces the personal, musical, and career history of 10-time Grammy Award winner Bobby McFerrin, from his earliest musical inspirations through his vast yet intimate experiences in popular music, jazz, choral, orchestral, and solo performance. See how this consummate musician has traveled along the continuum of the musical world to find himself championing singing and performing - beyond instruments, beyod tradition and Beyond Words. In personal interviews, Bobby reveals the difficulties in finding his calling in life, his personal philosophy on creating, his classical origins, the secrets of collaborating, and the importance of family. Featuring interviews and performances with Robin Williams, Chick Corea, James Levine, Herbie Hancock, Yo-Yo Ma, and more.
---

This is the first comprehensive documentary about one of the most beloved vocal groups in popular music, "The Mills Brothers Story" is also a sprawling family saga that spans over a whopping 50 years in show business. This Storyville Films production tells of their early innovations when they would imitate the sounds of musical instruments vocally, through tragic setbacks, to their triumphant successes as both performing artists and recording stars. With film clips dating back to 1932 through their second to last performance in 1982 this film is well researched and will not only be a nostalgic journey for those who grew up with their music, but also an informative and entertaining introduction for those unfamiliar with their incredible legacy.

---
Life Could Be A Dream - The Doo Wop Sound

This beautifully-done DVD is like a History Channel documentary on the Doo-Wop phenomenon of the 1950s and 60s, starting with its streetcorner roots in cities like NYC, Philadelphia, Baltimore and SF, and progressing into the recording and performance mainstream of American culture. Along the way we hear fascinating interviews with people like Ronnie (I) Italiano, DJs Don K. King and Bobby Jay, Louis Lymon (Frankie's Brother and a star in his own right), Pookie Hudson of the Spaniels (who wrote "Goodnight, Sweetheart" to his first love, not to write a hit), Earl "Speedo" Carroll of the Cadillacs, and Arlene Smith of the Chantels (who talks about being 12 years old when they scored their first hit with "Maybe"). We hear about and see vintage footage of the first Doo-Wop sex symbol, Sonny Till, The Ravens singing what arguably is the first Doo-Wop song, "Count Every Star," and the 1940s roots groups, The Deep River Boys, the butter-smooth Mills Bros. and SF's Golden Gate Quartet. We hear why and how a cappella, nonsense syllables and silly lyrics were used by poor young singers to create a full sound and "get noticed," the bombshell effect on the recording industry of Frankie Lymon and the Teenagers' "Why Do Fools Fall In Love"… I could rave on and on here, but I'll just give you the Chapter headings to give you a taste of what's here: "The Early Years," "Frankie Lymon and the Teenagers," "Romance and Innocence," "The Urban Streets," "The Girl Groups," "The Tour Bus" (which goes into the racism the mostly Northern groups encountered in the South), "The Business of Doo-Wop," "The Cadillacs" and "The End of An Era." Lots of great vintage footage here, of singers, cities, recording studios, live performances with star-studded playbills in lights—this is a sumptuous feast for the a cappella, R&B and pop music fan, as well as anyone who is interested in the amazing cultural history of the 50s and 60s. Enough said--"The Doo-Wop Sound" is a winner from beginning to end!
---
---
To find a specific song on any recording (or to find recordings by group name or CD title),
pick the search method and type the item you are searching for here:



All Rights Reserved All Content, page design, CGI Copyright © United Singers International